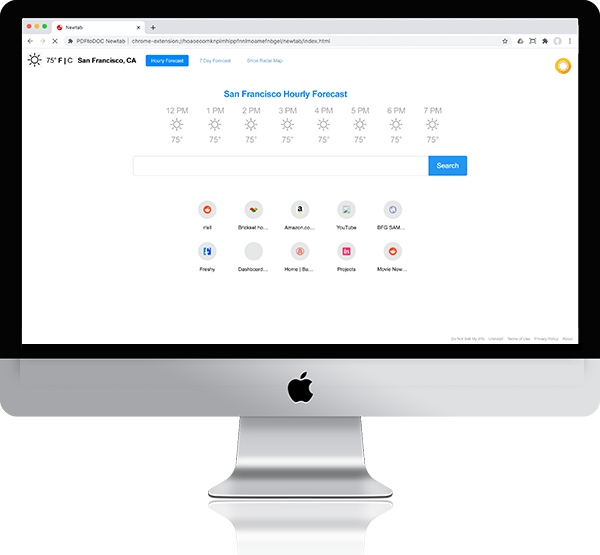 Weather Re-Imagined
Get your weather forecast with style and creativity
Weather Tab is a beautiful, simple extension to check the weather. Instantly get weather for your current location or anylocation in the wrold and a forecast so you know what to expect over the next few days. Weather Tab comes with a beautiful, customizable interface.
Get WeatherTab
All Weather Search extension sets your browser default search to Yahoo. Weather search features are available by clicking on the extension icon.

Real-Time Weather Forecast
Live weather forecast by geolocation or custom location by address or zipcode

Multiple Locations Forecast
Easily choose different cities or locations by zipcode or city name

Choose Fahrenheit or Celsius
Easy switch between Celsius or Fahrenheit

Hourly Forecast
Real-Time hourly weather forecast

5 day Forecast
Our 5 day Forecast let know what weather to expect over the next 5 days

Custom Backgrounds
Custom your background color with color picker and discover beautiful colors and harmonies with thousands of colors to choose.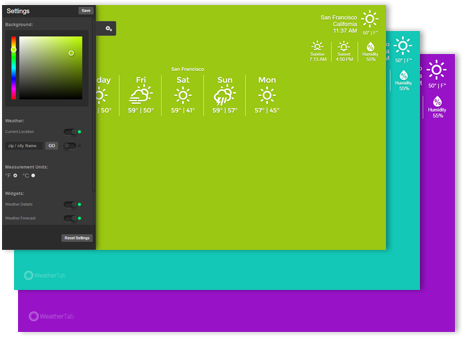 F
Take control of your widgets
Simply hide/show on specified widgets